Denver, CO – May 4, 2016: Advanced Exteriors, Inc.
Advanced Exteriors, Inc. of Denver, Colorado, has received GAF's most prestigious contractor award: The GAF President's Club Award. This highly coveted award recognizes Advanced Exteriors as one of the "elite of the elite" residential roofing contractors in the United States.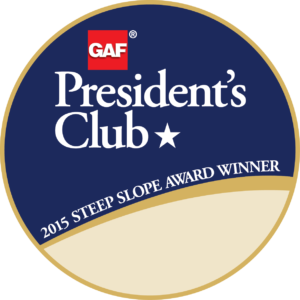 GAF is North America's largest roofing manufacturer, and only GAF Master Elite® Contractors can compete for its President's Club Award. To qualify for this award, a contractor must demonstrate an exceptional level of excellence in their business, especially in the areas of Installation Excellence, Consumer Protection, and Installer Training.
Advanced Exteriors has been a GAF Master Elite® Contractor since 2010. To become a Master Elite® Contractor—a status that less than 2% of roofing contractors nationwide have achieved—a candidate must demonstrate proper licensing and adequate insurance, have a proven reputation and show commitment to ongoing professional training.
Dealing with hail is a regular part of the job for Advanced Exteriors. "In our market, here in the Front Range of Colorado, hailstorms are a frequent occurrence," says Ty Correy, President. "Hail will often damage not only roofs but paint, gutters, siding, decks and windows, too. When people have that kind of damage, we're able to take care of the whole project for them as a complete restoration contractor. Unlike most of our competitors, we don't just do roofing."
The company owes its success to more than just hail, though. "When I look back over thousands of prior customers," states Correy, "I think they chose Advanced Exteriors because our work brings peace of mind, which comes from our reputation, upgrades, extended warranties and the customer service provided by our team. Homeowners can read customers' reviews of our workmanship in a varierty of places online and know that they're likely to have a similarly positive experience with us. We take care of our customers. It's important for homeowners to know that we're not going to turn their existing roof problem into a series of new problems, which unfortunately is a widespread issue in our industry due to all of the bad apples representing themselves as roofing contractors."
Advanced Exteriors registers extended warranties on every roof job it performs. This is a good practice for any quality roofing company, but, as Correy explains, his company has an extra incentive. "I was one of those homeowners who got burned after buying my house with a roof installed by a contractor who didn't register the warranty. The shingles went bald after only a few years. The manufacturer inspected the shingles and agreed it was a defect–but because the warranty was never registered, I had no coverage at all. I don't ever want to put one of our customers in that position."
The company's concern about customers extends to the community at large. Advanced Exteriors participates in "No Roof Left Behind," in which members of the public nominate deserving people who are experiencing hardship and are in need of a new roof. "We give away free roofs with NRLB every year, and it's an honor to participate in this program and give back to our community" says Correy. The company also works with Habitat for Humanity. "Giving back and doing Installation Celebrations helps to unify our staff and reinforce morale for something that has nothing to do with making money, plus it's a rare opportunity to get our people together on a Saturday outside of the office!"
Correy says that the company is not slowing down in 2015. "This year we want to increase the number of customers served while maximizing satisfaction and quality. Our immediate goals are to further improve our processes and to develop our employees. We're also increasing our social media presence and doing some Facebook marketing, especially to raise awareness about No Roof Left Behind. The cost of roofing has gone up quite a bit in recent years and there are people who need a helping hand. The more we can get the word out about NRLB the more people in need we can find."
About Advanced Exteriors
At Advanced Exteriors, customer satisfaction is the priority, providing quality assurance with expert craftsmanship. In excellent standing with the Better Business Bureau, Angie's List and certified by product manufacturers, the company exceeds service expectations in the Denver Metro Area and surrounding cities. Specializing in storm restoration, Advanced Exteriors works with insurance companies to settle proper scope for claims efficiently and effectively. Working with all municipal and county inspectors, the company performs internal inspections of installations as part of its customer commitment.
Advanced Exteriors
2200 S Valley Hwy
Denver, CO 80222
(303) 756-7663
Facebook: https://www.facebook.com/AdvancedExteriors
Twitter: https://twitter.com/AE_Colorado
LinkedIn: https://www.linkedin.com/company/advanced-exteriors-inc
YouTube Channel: https://www.youtube.com/channel/UCAWMYMTGC-NMEBQQLspvEsg
Also seen on the following networks:
About GAF
Founded in 1886, GAF has become the largest roofing manufacturer in North America. The company's products include a comprehensive portfolio of steep-slope and commercial roofing systems, which are supported by an extensive national network of factory-certified contractors. Its success is driven by its commitment to Advanced Quality, Industry Expertise, and Solutions Made Simple for contractors, specifiers, and property owners alike. In 2011, GAF was the first roofing manufacturer to offer a Lifetime limited warranty on all of its laminated shingles and, in 2012, it introduced the GAF Lifetime Roofing System. For more about GAF, visit https://www.gaf.com