Prior winner of all 3 GAF Master Elite Excellence Awards, Advanced Exteriors, Inc. has recently earned the highest honor in GAF standards, winning the prestigious 2014 President's Club Award!
GAF, North America's largest roofing manufacturer, developed the Presidents Club Award for GAF Master Elite contractors who excelled in workmanship, service and responsiveness.  Advanced Exteriors, Inc. has been recognized for the following: their long-standing support in GAF products, their success in offering homeowners peace-of-mind in GAF warranties and their attention to detail in all GAF roofing systems.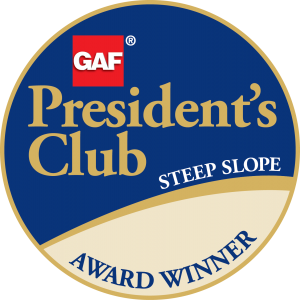 Advanced Exteriors, Inc. has been a GAF Master Elite contractor since 2006.  These contractors represent only 3% of all roofing contractors nationally, so the President's Club Award truly represents "the best of the best"!
Click on the President's Club logo to the left to learn more about Advanced Exteriors, Inc.'s Master Elite status!
It's an achievement we're extremely proud of, and it's made possible by every member of the Advanced Exteriors, Inc. family, including you. So this week, we dedicate a little time to sharing the news about this latest achievement.
In a letter from Brendon Lipton, the SE Regional Manager for the Certified Contractor Program, each Excellence Award we earned is explained. He outlined the Consumer Protection, Training, and Installation Excellence and we'll post the descriptions below to give you a clear sense of each one.
Consumer Protection – This award recognizes those contractors that best protect their clients with m system selling and enhanced warranties. The contractor must register a minimum of 100 enhanced warranties in a calendar year. Advanced Exteriors, Inc. registered over 1,000 in this period.
Training Excellence – This award is for contractors that are committed to training and continuous improvement. A minimum of 10 employees must pass the Pro Field Guide Test or attend a CARE Seminar. Advanced Exteriors, Inc. provides multiple trainings for its employees annually in addition to the minimum requirements of the program.
Installation Excellence – This award is for contractors that consistently install with a very high level of quality. Must have a minimum of 15 perfect 10 installation scores as rated by GAF's own inspectors following registrations of extended warranties (Golden Pledge and Diamond Pledge NDL guarantees).
Advanced Exteriors, Inc. is one of less than the top 3% of contractors nationwide who is qualified to be a Master Elite Contractor with GAF. The requirements to earn Master Elite status include, being in business for a minimum of 7 years, possessing an "A" standing with the BBB, being financially secure, maintaining a good standing with Material Distributers, and maintaining an 8 out of 10 Installation Inspection score.  Because Advanced Exteriors, Inc. meets these requirements; we can offer a GAF Golden Pledge Warranty. A Golden Pledge Warranty is a 50-year, non-prorated Material Warranty and carries a 25-year Workmanship Warranty.
Again, we credit the wonderful team at Advanced Exteriors, Inc. and every one of our valued customers for making these honors possible. If we haven't handled roof repair or replacement yet at your home or property, give us a call and see for yourself how we earned each one of these accolades from GAF.