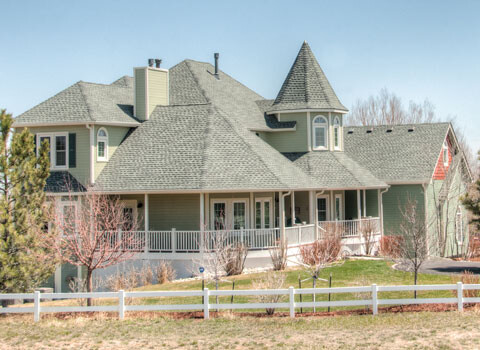 Transformations
Whether you are interested in replacing your roof due to storm damage or managing a faulty gutter system, Advanced Exteriors is able to help with your roofing and exterior needs no matter the size of the project. See below for ways we've improved the homes of Colorado residents.
Residential Roofing
Lakewood 2017
Advanced Exteriors had the opportunity to replace the roof on the largest home in Lakewood not once, but twice. This Victorian-style home went from having a cedar shake roof to a GAF Grand Canyon in 2009. Due to a change in ownership and a difference in preferred style, Advanced Exteriors had been contracted again in 2017 to install a GAF Sienna roof.
Denver 2021
In need of a new roof and siding, the owner of this Arvada home contacted Advanced Exteriors. This project included a low-slope porch and no insulation. A portion of the roof was flat so no shingles were needed.
Commercial Roofing
Multi-Family
For seven years, Advanced Exteriors worked closely with the Cherry Creek HOA making leak repairs on 39 multi-family buildings. Our team stayed in close communication with the insurance company resulting in funding for the replacement of all roofs. This project included seven different building types and within each one was six to twelve units. Advanced Exteriors began this project in November 2022 and finished just in time for the holidays.
Exterior Services
Arvada 2017
A severe hail storm caused roof and siding damage to this Denver home resulting in the homeowners contacting Advanced Exteriors for help with repairs. Our team assisted with ensuring the homeowners' insurance policy would cover repair costs to the roof, downspouts, gutters, both steep and low slope roofs, and assembly on the home's detached shed. Advanced Exteriors added RE-30 insulation to bring the home to code and redecked steep slope sections of the roof.